Venue and Transportation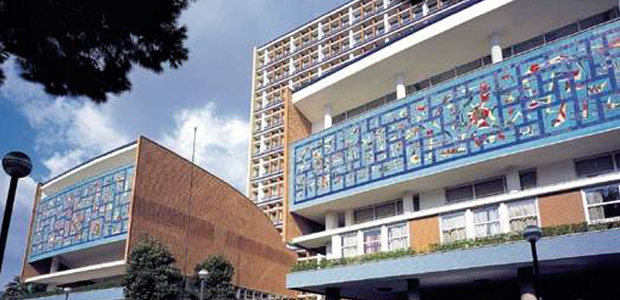 The conference venue will be the School of Polytechnic and Basic Sciences of University of Naples "Federico II", located in Piazzale Tecchio, 80 in the Fuorigrotta district, (www.unina.it). Naples can be reached easily both by train, plane, ship and by car. There are hourly trains from Rome and Milan to Naples; the trip takes approximately 1h:10m from Rome.
Hotels and Accomodation
Hotel Cesare Augusto ***
Viale Cesare Augusto, 42
Phone: +39 081 5934442 / +39 081 5931757
Website: www.cesareaugustohotel.it
Contact: info@cesareaugustohotel.it
Price: starting from Euro 65,00 (x)
Hotel Nuvò ***
Via Nuova Agnano, 5
Phone: +39 081 19566566
Website: www.hotelnuvo.it
Contact: info@hotelnuvo.it
Price: starting from Euro 75,00 (x)
Hotel Cristina ***
Via Diocleziano, 109
Phone: +39 081 7621369
Website: www.hotelcristinanapoli.com
Contact: info@hotelcristina.com
Price: starting from Euro 99,00 (x)
Hotel Esedra ****
Piazza Giorgio Ascarelli, 50
Phone: +39 081 2421111
Website: www.palazzoesedra.it
Contact: info@palazzoesedra.it
Hotel Serius ****
Viale Augusto, 74
Website: serius.hotel-naples.com/it
Hotel Leopardi ***
Piazzetta Pilastri 12
Phone: +39 081 5933711/+39 081 19565115
Website: www.hotelleopardi.com
Contact: info@hotelleopardi.com
Best Western JFK Hotel Napoli ***
Via John Fitzgerald Kennedy, 141/145
Phone: +39 081 621777
Contact: jfk.na@bestwestern.it
(x) To get a special price, mention the attendance to the IFToMM Italy Conference
Location
Naples is a well-known place for its rich history, art, culture which provided it with a cultural and artistic identity characterized by numerous monuments built during more than 2500 years. The city is full of museums, castles, churches, squares, narrow streets and archaeological remains; moreover, it is placed in one of the most beautiful gulfs of the world. Lovely places like Capri, Pompei, Sorrento and Amalfi Coast, just to make examples, are very near and easy to reach. In September the weather is fine, sunny temperatures above 20°C.